Hello! I am Daniel from Hidden Brighton and I wanted to share my love of Grayson Perry with you. Whilst Grayson won the Turner Prize back in 2003, it was the lockdown series 'Grayson's Art Club' that solidified him (and his awesome, psychotherapist wife Philippa) as positive, creative and emotional beacons of light during - and beyond! - the pandemic.

Grayson Perry is an English artist, writer, broadcaster and crossdresser. He is known for ceramic vases and tapestries, which demonstrate his keen and often critical observations of the contemporary arts scene.

I have selected the following works from our collection as they sum up just a few reasons why Grayson Perry makes me happy, and why his artworks have woven their way into our collective consciousness to provide hope and encourage creativity during a difficult and confusing time for us all.
---
Chris Whitty's Cat, 2021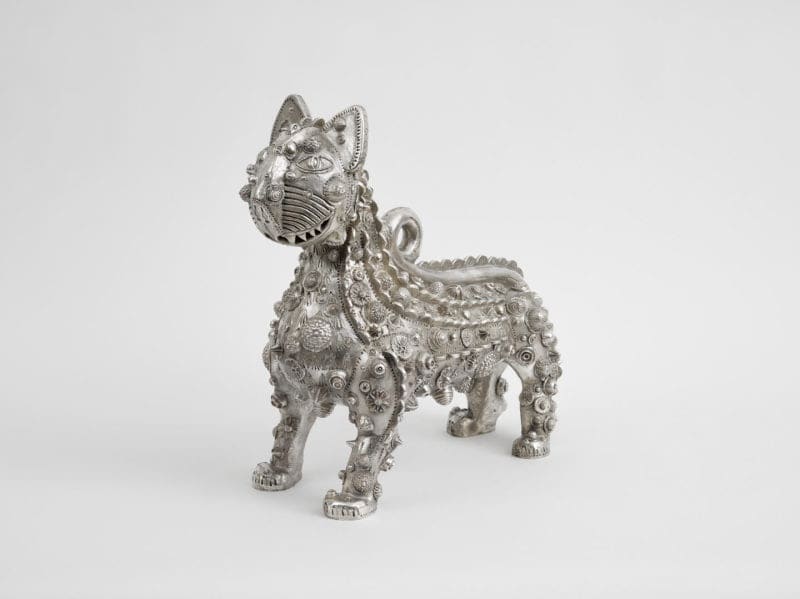 Signed with the artists engraved monogram.
Silver metal sculpture.
Measures 48 x 48 cm.
Edition of 10.

Originally sculpted on Perry's lockdown Art Club
during the initial Covid lockdown in 2020. An
individually cast silver sculpture from the original
mould of 'Chris Whitty's Cat'.
---
Gay Black Cats MC, 2017
Cotton fabric and embroidery, handmade flag.
Measuring 161 x 104 cm framed.
From the unnumbered edition of 150
(plus 10 artist's proofs).

£9,500

A handmade appliqué flag inspired by Asafo flags.
---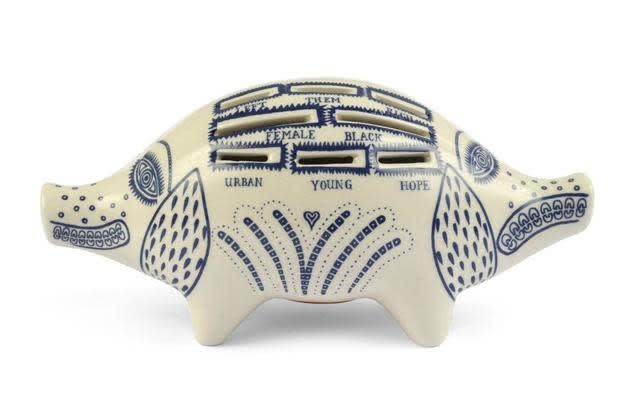 Piggy Bank, 2017

Artist's logo on the underside.
Painted and glazed ceramic multiple.
Measuring 26 × 13 × 13 cm.
Unknown edition size.

£3,750

Published by the Serpentine Gallery, London,
with the original grey archival box.
August 15, 2021